ALLIANCE ANNOUNCES 2018 AWARD WINNER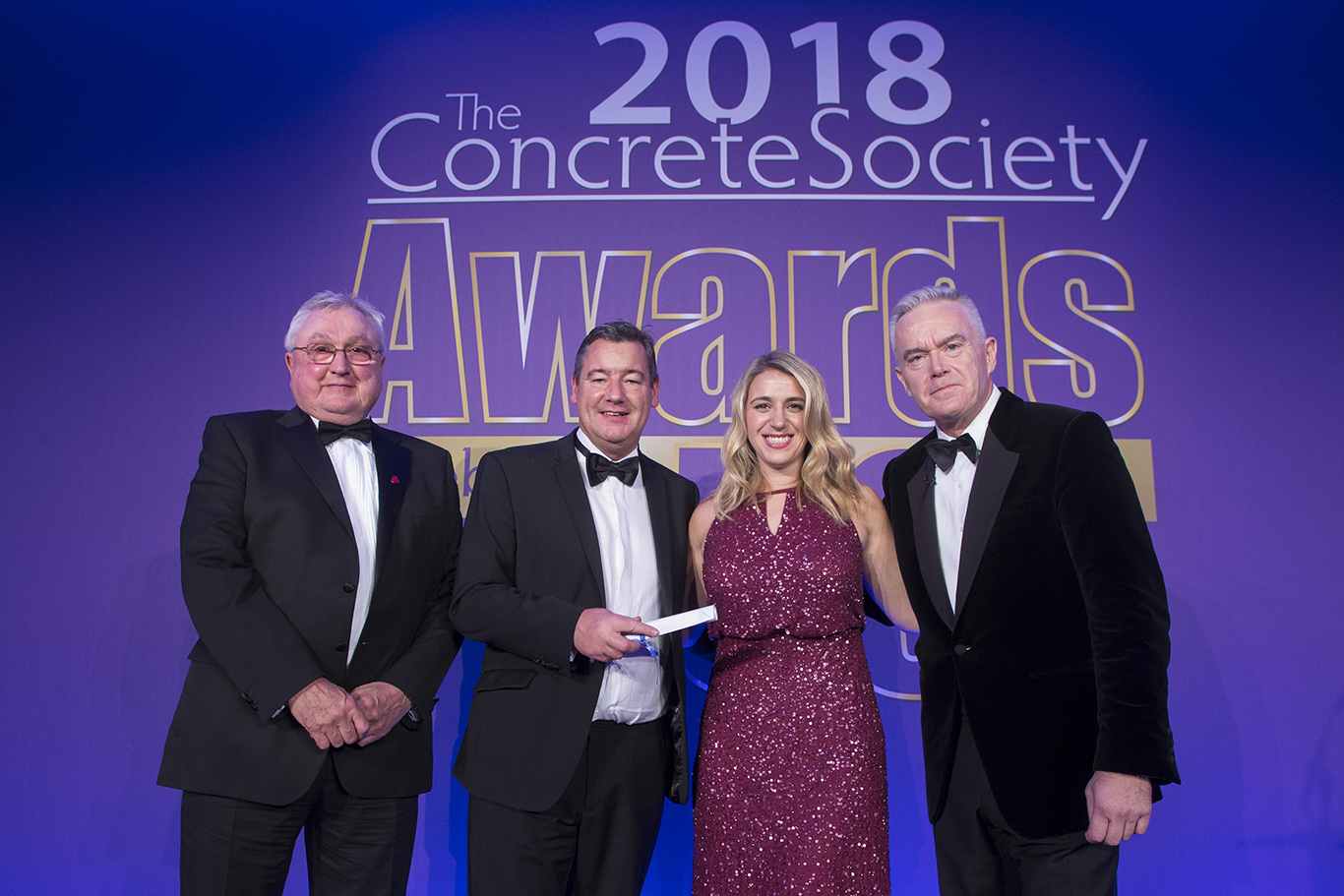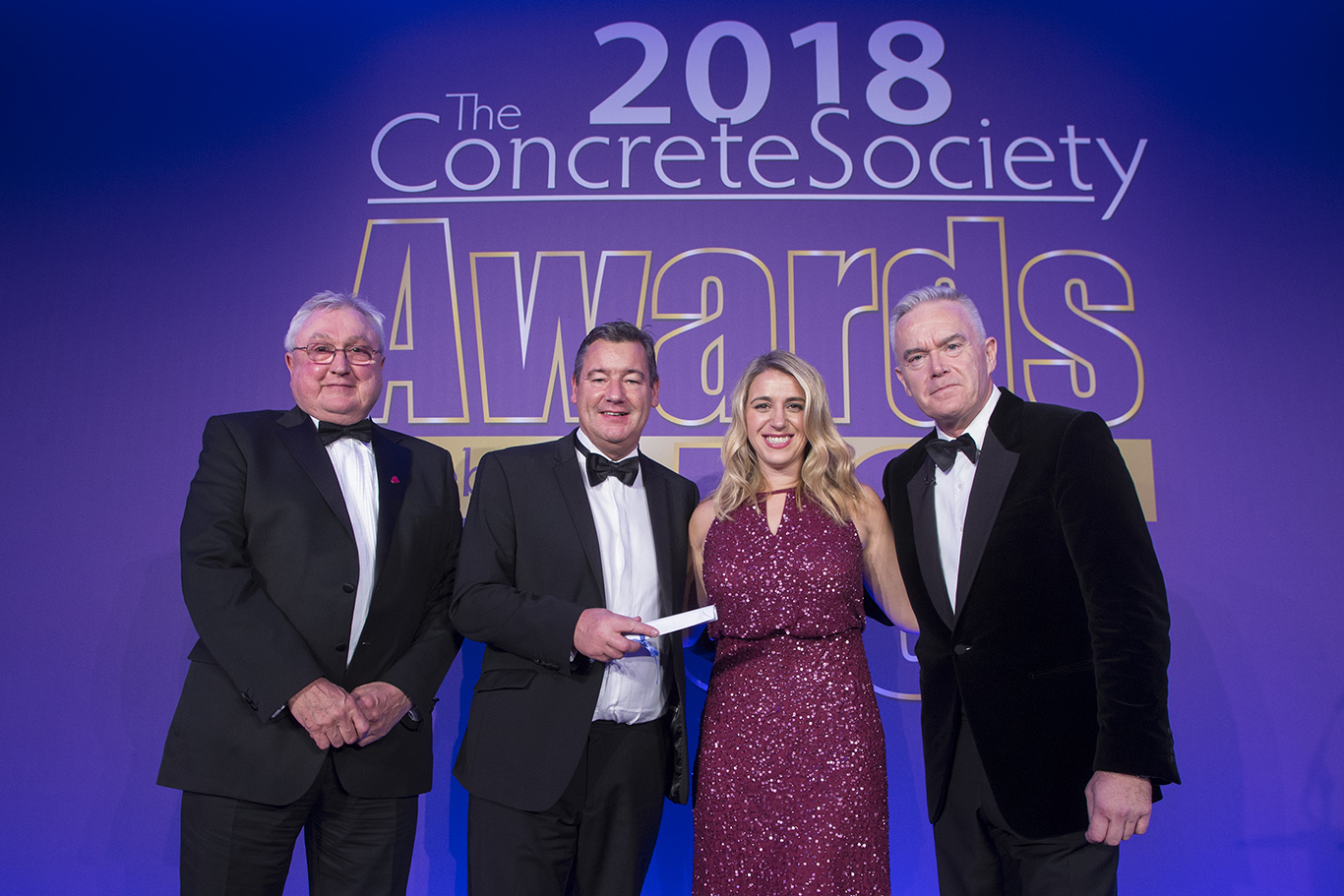 The Structural Concrete Alliance has announced Volkerlaser Ltd as the winner of the 2018 Structural Concrete Alliance Award for Repair and Refurbishment for its repair and strengthening of a marine quayside at King George Docks, Hull. The award was presented by broadcaster,  Huw Edwards, at the Concrete Society Awards Dinner held at The Royal Lancaster Hotel, London on Wednesday 21st November 2018.
The repair and strengthening works to 12 Quay at King George Docks in Hull presented an extremely challenging project for Volkerlaser. It involved the use of concrete repair, sprayed concrete, cathodic protection and Carbon Fibre Reinforced Polymer (CFRP) strengthening, to provide a unique solution.
Access to the quay was restricted by various factors, including; weather conditions, port activity, tide times and most importantly water levels. The water level to the beam soffits was only 500mm, increasing to 900mm at the deck soffit, requiring the development of a bespoke access craft
Since standard CFRP solutions were not feasible, Volkerlaser worked with Curtins to develop a design that used a combination of CFRP wrap, plates and rope (known as fiocco) to replicate the structural workings of a truss beam. Hand placed and sprayed concrete repairs were undertaken and galvanic anodes were installed within the repairs to provide long term protection.
Second place was awarded to  Kier Design Services – Highways for its innovative delivery solution to complete extensive concrete repairs, re-waterproofing and resurfacing of the A38M – the main link between the M6 'Spaghetti Junction' and the centre of Birmingham.  To minimise travel disruption Kier developed a ground-breaking weekend closure scheme, with the entire junction shut for 58 hours at a time over each weekend. This offered considerable travel benefits, with weekday access maintained throughout.
Currall Lewis and Martin was awarded third place for its collaborative work with Kier Highways to identify new fast-curing materials and implement a weekend closure delivery model to complete concrete repairs and re-waterproofing to the North East Spur & Rushall Canal bridge deck. The concrete repair and traffic management solution adopted ensured that disruption was kept to a minimum and delivery was achieved over five weekends, instead of the original 24 week programme.
Announcing the winner, the Alliance judging panel declared:
"The annual Structural Concrete Award aims to highlight the most innovative structural concrete repair and refurbishment solutions. Volkerlaser is a most deserving winner. Its detailed planning and collaboration provided a highly inventive solution to a very logistically complex problem. We also congratulate Kier and CLM for their multidisciplinary approaches which resulted in collaborative solutions and innovative rapid repairs within extremely tight constraints."
The winners were chosen from entries received from members of the three trade associations which make up the Structural Concrete Alliance: the Concrete Repair Association (CRA); Corrosion Prevention Association (CPA); and the Sprayed Concrete Association (SCA).