Freyssinet protects M6 Smart Motorways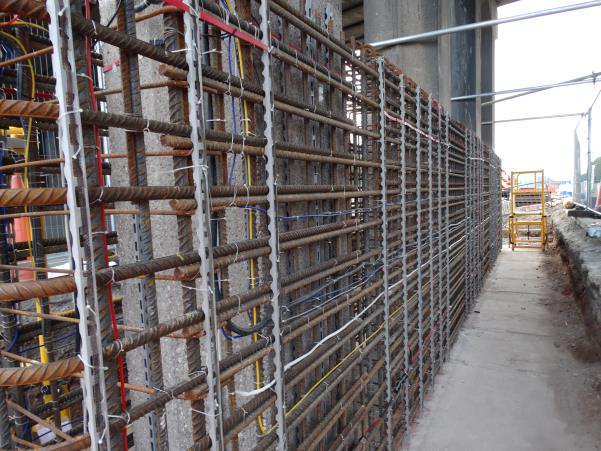 Carillion and Kier, working as a joint venture on behalf of Highways England, approached Tarmac in conjunction with Freyssinet to work on the multi-million pound M6 J16-19 Smart Motorway upgrade programme between Crewe and Knutsford.  A concrete repair solution was sought that would not require further intervention for a minimum of five years post-construction.
Each complete pier was encapsulated with a with a full-width single-leaf structure. Above the first lift, individual columns were encased where the original foundations were too weak for the extra weight of complete encapsulation.
The encapsulation and encasement designs were very thin and congested with reinforcement, a highly-workable self-compacting concrete was used for the first time in a vertical pour to deliver the finished structure.
The material was "Topflow" from Tarmac which successfully flowed around the form and congested reinforcement without any vibration which would have damaged the ICCP mesh. Therefore, required strength was easily achieved.
To overcome the challenge of the remaining chloride contaminated concrete, an Impressed Current Cathodic Protection (ICCP) system was designed, which included provision for Impressed Current Cathodic Prevention within the 'new' parts of the structure.
This included unique technology developed by Freyssinet/CCSL for use in structures in the Middle East, where new reinforced concrete structures, such as the Sheikh Khalifa Bridge, regularly incorporate Impressed Current Cathodic Prevention in their design. As well as offering corrosion prevention to the new layer of reinforcement the solution also provides a combined benefit of future corrosion protection against the existing reinforcement.