CSC SERVICES COMPLETES NHS REMEDIATION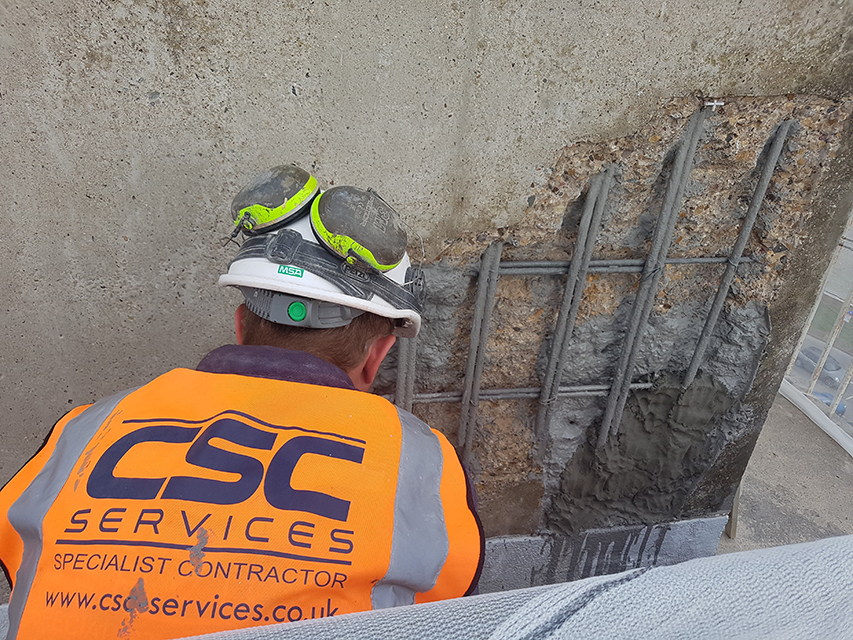 Over the summer, CSC Services completed a scheme of refurbishment work at University Hospital North Tees. This was completed within budget and to strict timescales. Work was planned to ensure public safety and minimise disruption to patient services.
The age of the buildings, combined with environmental factors had resulted in spalling of concrete at various areas across the hospital. Defective concrete was removed and concrete repairs undertaken using cementitious repair materials.
To prolong future use of the building, a cementitious coating was used to protect steel rebar from further corrosion. The highly alkaline coating passivates the steel surface chemically to prevent further rust formation. It protects the steel from moisture, gasses and chlorides.
With patient and public safety core drivers of the project, repair materials were hand-applied. On sensitive sites such as hospitals, CSC Services can use a range of concrete protection products and application methods to minimise disruption.
Speaking about the work, the Design and Development Manager at North Tees and Hartlepool Solutions LLP said:
"CSC Services site team played a vital role in fulfilling this programme, providing an excellent quality of workmanship and have given the Trust the confidence that the building is safe until more funds can be raised to cover further work."
All work undertaken was in accordance with the BS EN 1504 standard, in which all CSC Services' operatives are fully trained.